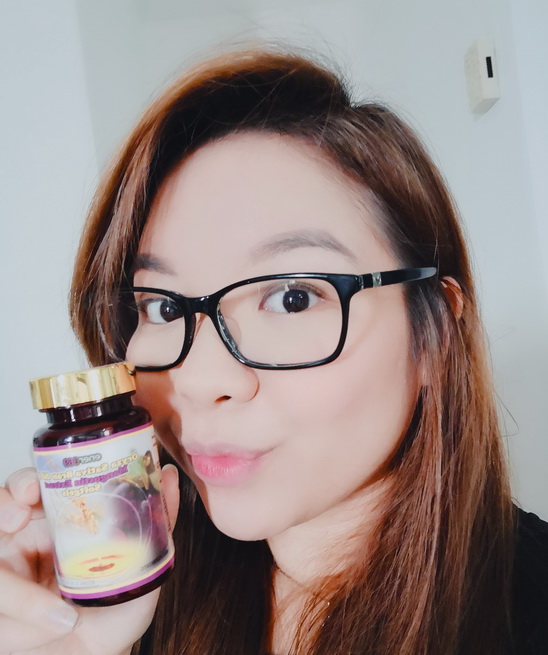 Is Mc Ocean Scam Or Illegal ?
Hello! My name is Carissa and I have been in Mc-Ocean since 2015. Prior to joining Mc-Ocean, I was a practicing lawyer in the Corporate Conveyancing Department and I loved my job. Hailing from Kuching, I graduated with a LLB Honours from Northumbria University, UK and subsequently did my Certificate of Legal Practice in Malaysia.
WHY MC OCEAN?
While in practice, I became aware of the struggles of our generation – good degree and great job but unable to afford a decent house, a decent car (not even talking about luxury cars!), travel frequently and still be a filial child who gives back to our parents. All of these are extremely challenging, if not impossible in today's world due to stiff competition and adverse economic conditions.
In fact, while practicing, I witnessed a lot of parents buying properties for their children or assisting them because they cannot afford to do so independently. After speaking to many people around me, I realized that the Kuala Lumpur peeps are the hardworking bunch – juggling multiple careers and part time jobs concurrently just to make ends meet and in hope of financial breakthrough. Having more than one career and enabling  one to pursue passion completely inspired me. I've met lawyers who are part time writers, doctor becoming a part time model, accountants selling handmade soaps and many others so willing to invest hours of their time to have a better lifestyle. (https://hbr.org/2017/04/why-you-should-have-at-least-two-careers) This article from the Harvard Business Review can perhaps help you understand a bit more about the advantages of having more jobs than one.
Having met many people and explored various business opportunities, it was only natural I was cautious and judgmental in my approach of "new opportunities". I've explored starting up an Intellectual Property forum to being in Fintech, from insurance agent to trading in the stock market and many approaches from the multi-level marketers. Hence, I was very cautious and had plenty of reservations prior to joining one – to ensure I don't give up half way in doing anything and to know that it is worthwhile doing so. I understood that every opportunity can potentially be a good opportunity but one cannot achieve success without putting in effort and hard work – there is after all no fairy godmothers to make your wishes come true. Entering into the entrepreneur lifestyle or in lack of better words – sales and managing your own flow of income – is not an easy feat and it requires much discipline and ownership.
Much to my amusement, when I first came to know of Mc-Ocean, I had to meet various partners before seeing the business model – and this completely excited me because people should always come first in every organization.
(https://www.forbes.com/sites/rasmushougaard/2019/03/05/the-power-of-putting-people-first/#472a906aaff8) "The leaders of people-centric companies understand that it's people who make their company successful. These companies realize that when people feel valued and cared for, they do their work with stronger intrinsic motivation, a deeper sense of meaning, and a greater level of engagement. They go the extra mile simply because they want to contribute to an organization that cares about them." And this rings true in Mc-Ocean. Many partners guided and mentored me despite not earning anything from my achievements and yet they do so because they took ownership of our organization as a whole and wanted to build leaders, hence they led by example. I was ultimately impressed when I saw partners here going the extra mile in making an event so successful; during my time I was introduced to the partners first through the Deepavali event; and this event was organized by the partners for free without event planning experience or background. Despite not earning anything, they did it so willingly, energetically and passionately! Of course I am not daft to realize these were networking events and many (including me) joined the business platform via these events; sales will be sales – but just the enthusiasm and the excitement in the whole event made me realized they really, really love this company! I was intrigued and was excited to work with this bunch!
IS MC-OCEAN LEGAL ?
Before joining this company however, I conducted numerous checks on legal portals to ensure the legitimacy of the company. I researched on Handshakes (https://www.handshakes.com.sg/faqs.html) (which I am unable to post in this article as it contains too detailed information and to ensure I don't get penalized on PDPA 2010), SSM (https://www.ssm.com.my/Pages/Home.aspx), and I called KPDNKK (now KPDNHEP)( https://www.kpdnhep.gov.my/status-syarikat-jualan-langsung/) to ensure the company is a lawful company. Here are the certificates for your review.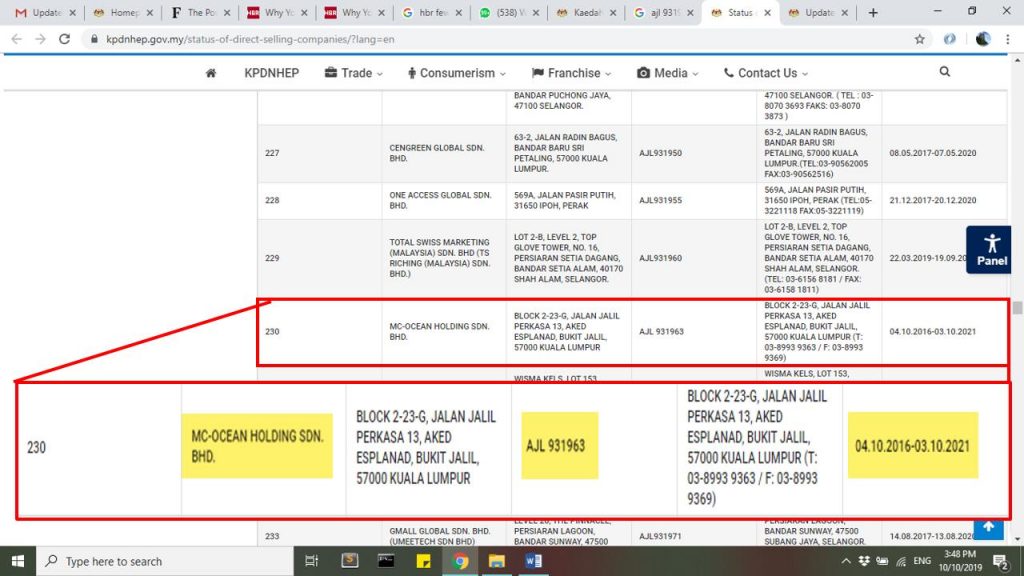 Mc-ocean License Year until 2021
As I continued to pursue this business, I eventually decided to run it fulltime as the rewards of giving 100% of your effort here is evidently seen in the income. In addition, it was very exhilarating to work with many people from various background! In Mc-Ocean, I began to understand the meaning of business; the choosing of correct mentors and the investment of productive hours, alongside having products that sells.
HOW ABOUT MC OCEAN PRODUCTS ?
I used to have menses only twice a year; the normal city girl problem (but it's not normal – please get yourself checked and take the correct supplements) and I was looking for a supplement that was effective and better in comparison with hormone pills; and after years of searching – I couldn't find one that works. After consuming Ener369, my menses came immediately and I was completely blown away. Ener369 is from plant extract and it contains Omega 3,6,9 which includes good combination of antioxidant; Mangosteen Xanthones, Gamma-Oryzanol and Vitamin E. This naturally grown rice bran is preservative free, artificial additives free, chemical free and has no artificial colouring. On top of that, it has anti-oxidant properties and can reduce inflammation, lower chronic diseases-heart disease, prevent arthritis, regulate metabolism & reproductive system, lower cholesterol, and regulate hormones for both male and female among its many benefits!
Another reason why I love Mc-Ocean product so much is because Enerfiber also helped my mother who suffered from constipation and had multiple piles issue! "Piles are collections of tissue and vein that become inflamed and swollen. The size of piles can vary, and they are found inside or outside the anus. Piles occur due to chronic constipation, chronic diarrhoea, lifting heavy weights, pregnancy, or straining when passing a stool." It is necessary to have enough fibre through the consumption of fruits and vegetables and adequately so to prevent constipation. (https://www.healthlinkbc.ca/healthlinkbc-files/fibre) Our Enerfiber includes both soluble and insoluble fibre and thus this helps to normalize your bowel movement and prevent constipation while promoting intestinal excretion of waste and toxins. In addition to that, it increases feeling of satiety hence helping you to feel full longer and control your foods and energy intake which immediately aids to control your body weight. Besides that, it also consist of spirulina and chlorophyll which help to remove toxins in blood and it contains probiotic and enzyme premix, which helps to improve gastrointestinal health. In comparison to other fibre products out there, Enerfiber is preservatives free and artificial colouring free which makes it safe to be consumed every day.
ME AN ENTREPRENEUR!
Through this Mc-Ocean platform, I've become an entrepreneur even though I have never imagined that I could be one. The idea of earning a part time income ultimately led me to learning the ins and out of business alongside understanding the mind-set needed to be successful. I grew up in a humble home; with dad and mom emphasizing on becoming a professional to achieve a comfortable salary but today, we are well aware that having your own business far exceeds the income of a normal salaried person. That is why you see so many start-ups around us today. However, having a start-up may be costly and may not ensure success. In Mc-Ocean, there are mentors who will guide you and help you to achieve the success you desire. Above it all, I love that Mc-Ocean gives you an opportunity to enter into commercial and corporate platforms; hence you can see our products are also available in various supermarkets, marts and even in Airasia Rokki! The only question you need to ask yourself is – will you invest time and effort in yourself and in the business you want to do? In any business platform or workplace, the prevailing truth is hard work will definitely bring you success. Dreams don't work unless you do!
This business platform has also given me another opportunity to bless the community. I believe in education and I believe in giving to the less fortunate. Through this platform, I am able to have more flexible hours and can give back in teaching the poor income kids in Damansara.
I believe that putting yourself in a 'less complaints' and 'focus on solutions' zone could bring you to places you've never dreamt of! Do not consistently follow the likes of other but decide to be successful and let others follow you. As much as I would like to put more words into this article, I fear it would end up becoming a book. Should you need to speak to me further, please do not hesitate to contact me and reach out to me. God bless you abundantly.